Japan

Hokkaido
2005/9-drive

Aomori
2005/5-T&W day trip
2005/8-M&A day trip
2005/8-Nebuta
2005/8-Neputa
2005/12-Snow
2006 Snow festival

Iwate
2007/7-Vera day trip


Sendai


Osaka


Kochi
2005/8-Yosakoi

home


Japan / top


About Japan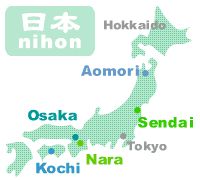 Japan is an island nation in the East Asia and consists of several thousand islands. Japan's total land area is about 380,000 sq km and the length is about 3,000 km. These island are located spread out from north to South. More than 75% of the area of Japan is mountainous and covered by forests.
The population of Japan is about 127 million and the population density is one of the highest in the world!
Japan has 4 seasons and each season is very clearly defined. In addition, to this, the limate is quite different between in the northern area and the southern areas in the same season because Japan is a long and thin country. In springs, the climate gets warm and people in the south area can go to the beach in May. But, people in the north area still need a heater. In summers, it's very hot and humid in most of areas, except Hokkaido. And lots of typhoons usually hit the western area of Japan. Typhoon is one of the disaster that most of Japanese are worried about and it is unavoidable. In winter, we have lots of snow in on the sea of Japan side coast and it's really cold. But it's mild in on the Pacific side of Japan and we don't have much snow.
My hometown is Kochi. After I graduated from the high school I moved in Nara and went to university. Soon after graduation, I moved in Osaka because I took a job there. And I moved in Sendai after a few years. I lived in Sendai for 3 years. Now, I've just moved in Aomori. I'm moving toward the north like tyhoons!!