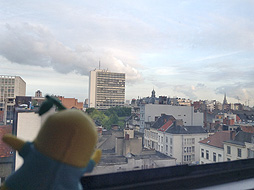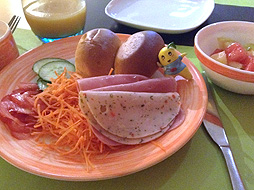 On the 3rd day after staying in Belgium, it was the day I would move to my next destination, Gent.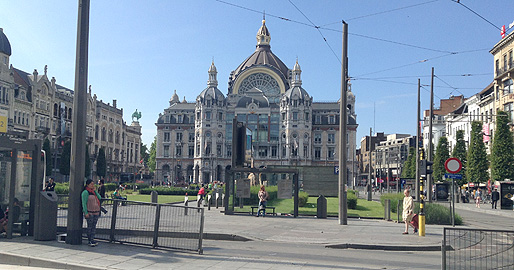 I headed for Antwerp's old town again, because I overslept last night. It was too clear and sunny to move to another city just yet!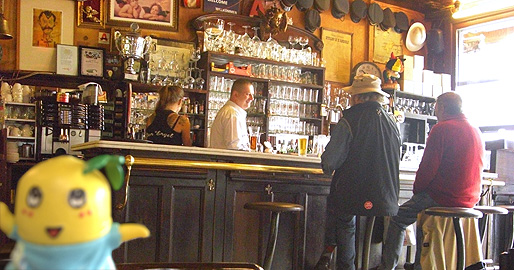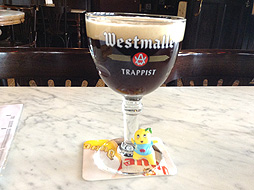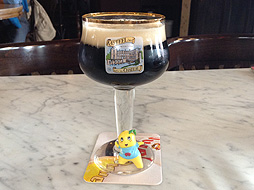 I visited the same beer cafe as yesterday.
There are lots of beer cafes in Antwerp, however most cafes open after 11am at the earliest and there are also lots of cafes which run all through the evening to morning. The beer cafe "DEN ENGEL" is open from 10am, so it's very convenient for busy tourists.

Today's first sip was "Trapist(dubbel) Westmalle (ABV 7%)".
It is a dark reddish brown in color. It is a full bodied beer with a malty and fruity sweet flavor. It is well-balanced and also one of my favorite Belgian beers!

The 2nd one was "KASTEEL bier (Donker/Bruin) (ABV 11%)".
"KASTEEL bier (Donker/Bruin)" is a dark beer with a really sweet flavor like caramel or chocolate, lots of body and slightly fruity aroma.
As for me, it is super sweet and strong. Due to the intensity of its sweetness and strength(not only of its flavor, but also the percentage of alcohol) I think that it's better to take the time to enjoy it.

"KASTEEL bier" is not my cup of tea, I quite like its unique shaped glass. Noticeably, each Belgian beer has unique beer glass depending on the brand and its individual beers. These beers are served only in its own special glass.
I heard that the personalized glass enhance the quality and taste.

Anyway, let's put aside the technical stuff for now. Whenever I drink beer with its special glass, there is no doubt that I feel it is more delicious than usual compared to the regular glasses in Japan.
Antwerp to Gent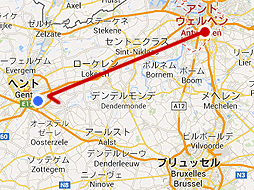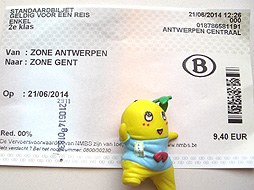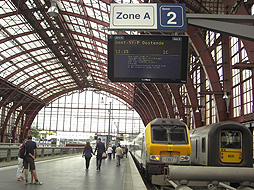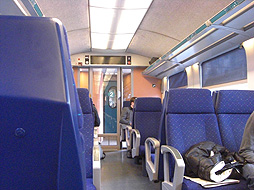 I enjoyed beer in Antwerp in the morning before I moved to Gent by train early in the afternoon.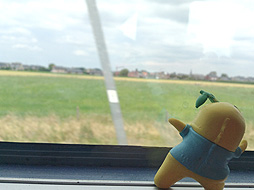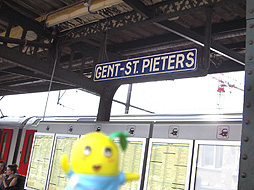 After a 50-minute journey, I arrived at Gent St. Pieters railway station.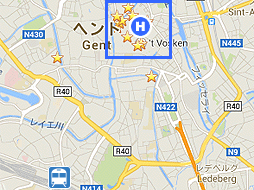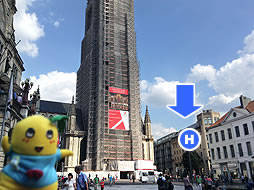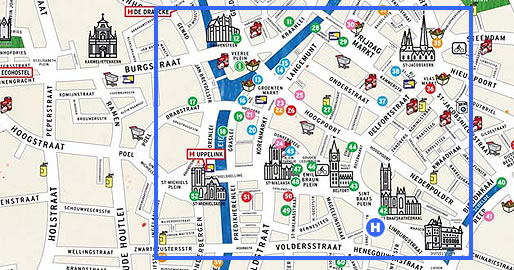 Gent's old town is a popular tourist center and is far away from the railway station, so I recommend you traveling by taxi or tram.
By the way, if you have a "Lijnkaart(De Lijn bus and tram card)" and it still has remaining credit, you can use it in Gent as well.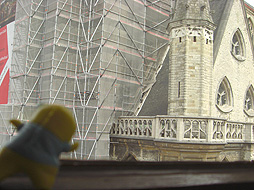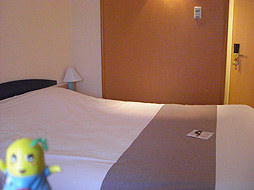 My accomodation was right next to St. Bavo's Cathedral(Sint-Baafskathedraal), which is a historic landmark in Gent.
However, I was completely out of luck! The cathedral was being restored and everything was covered. All I could see was the scaffolding and mesh which covered the cathedral from my rooms window.