Ireland
Departure
Galway
School
Home stay
Pub
-Pubs&Bars
-Map / Pubs&Bars

Clonmacnoise
Cliffs of Moher
Aran Islands
Return home
etcetera




My way home from Ireland


On the final day of my stay in Galway, I went to school with my suitcase in the morning. My hostfamily gave me a lift there. That day was also the last day of school in 2004. After the lesson we grouped into our own class and I sang a number of Christmas songs. We had practiced singing for a few days. Then we took a picture with each other. I would take a train leaving Galway at 15:10 and so I had lunch with my friends before the train depature time.
left, center:My friends, who I had lunch with, saw me off to the station.
right:I chose Irish Breakfast as my last meal in Galway. Of course I also ordered Guinness.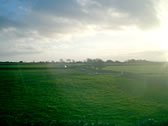 The train was crowded because it was Friday afternoon. There were lots of students who came home to spend the weekend. I looked for a seat and sat down beside an old man. A middleage businessman was sitting on the other side of my seet. This businessman worked all the way to Dublin in the train! He called his office administrator to confirm his schedule...and called his business customers. At last he called his wife and said, "I think that you might pay more attention to her, because she is still 17 years old..." What are you talking about? Where do you think you are! Please do it at home! I though! The old man sitting beside me made me wonder because he had been operating a personal digital assistant durin my journey! By the way, lots of passengers around me were chatting into their mobile-phones in the train. Some school girls, who were sitting on the other side of the passage way, were talking on the mobile for about 1 hour! Please stop being so loud! I wondered if using a mobile-phone in public area was against the law...?
I arrived safely in Dublin and I went to a hotel by taxi. I wondered what the hotel was like, and I was anxious, because I had booked it through a tourist center in Gaway and I didn't any information about the hotel. And it cost 32 euros and I thought that it was under the market price. When I first came to Dublin, I stayed at a hotel which I had booked through a Japanese agency. It cost 107 euros!
The hotel was located beside a busy road downtown and it was a little noisy. But the room was clean and the hotel was not so bad. However, I didn't have lots of time. "I had to go to a pub!" When I went to the lobby, the lobby was filled with guests who looked like they were joining the after party of wedding ceremony.
left:The hotel lobby.
right:The room where I stayed.