Ireland
Departure
Galway
School
Home stay
Pub
-Pubs&Bars
-Map / Pubs&Bars

Clonmacnoise
Cliffs of Moher
Aran Islands
Return home
etcetera




Pub


There are lots of pubs providing a wide range of live music in Galway. Some pubs specialise in Traditional Irish Music, others feature jazz and modern music.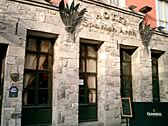 Spanish Bar


Brennan's Yard Hotel,Lower Merchants Road,Galway


http://www.brennansyardhotel.com/
One day, in November. I went around Galway town to find a good pub where I could have lunch and Guinness after school. Most of the pubs just had a door facing the street or some small windows with smoky glass. In addition, they were all very dark inside. I couldn't see inside the pubs and choose a pub. Some pubs had a brack board saying "Lunch time 12:00-15:00" beside the entrance, but I still couldn't choose a pub. After I had walked all over the place for about 1 hour, I entered a pub that was inside a Brennan's Yard Hotel, because I was thinking that all hotels are the same around the world. I told the staff that I wanted to have something to eat, especially Irish food. She gave me a pub menu(dinner menu) and I orderd Irish stew and Guinness. They tasted good and she was very kind. But there were a few people there because it was about 3 p.m., so I felt a little bit nervous.
GARVEY'S SELECT BAR
eyre square,Galway
http://www.garveysinn.com/
I walked around the town to find a good pub. I found a pub near Galway station, that was inside a hotel. Because I could see some people having lunch inside, I went into the pub with an easy mind. There was a big counter and the pub was wide, with a high ceiling. There seemed to be a restaurant at the back of the pub space. A barman who looked like a typical barman inside the counter gave me a big smile. I got a good feeling. I orderd 'Today's special', which was chicken with sweet sour sauce. Some men who were wearing business suits and ties had lunch around me. Everybody avoided alcoholic beverages. I had lunch with Guinness while I was wondering what I looked like...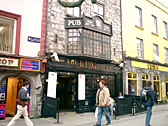 King's Head


High street,Galway


http://www.thekingshead.ie/
I went to 'The Kings Head', a pub that I found in my guidebook. It looked very famous. It had a black wooden door, like all other Irish pubs, and some smoky windows. So I couldn't know about inside.
It was quite wide and there was a long counter on the left side. A part of the counter was a sandwich counter and it seemed that I could order any sandwich I liked. ...But I orderd 'Today's soup' and Guinness because it was to much trouble to order in English. A bar staff told me "You can have a seat anywhere." and gave me the soup & bread. So I sat nowhere special. But I didn't get my Guinness for a while so I asked a staff about it. She said, "It takes some time to draw Guinness from the tap because of the foam on the beer." First, they draw half the beer, then wait for the foam to settle before drawing the other half. That was the first time I heard that fact!