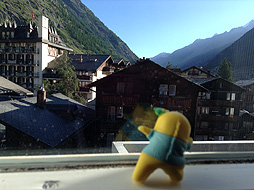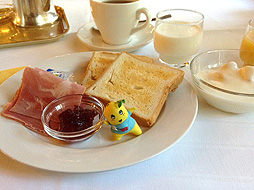 On the 5th day of my stay in Zermatt, the weather was beautiful.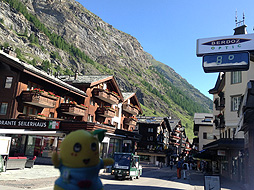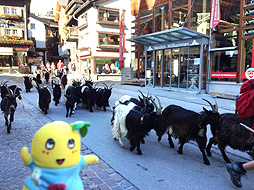 I ate a quick breakfast, and hurried to Gornergrat Bahn station while navigating my way through a flock of mountain goat.
The train services between 8 to 10 in the morning are always crowded with Japanese tourists, so I recommend visiting as early as possible!

Today, I didn't go up to the mountain top and I got off at Riffelalp station.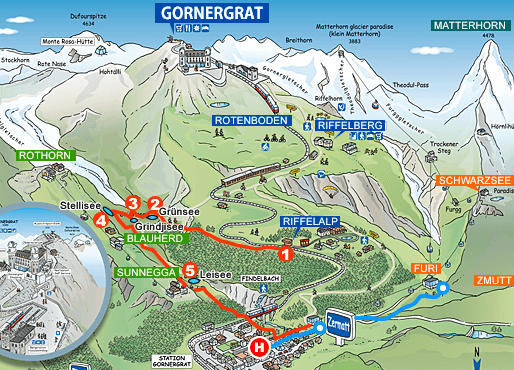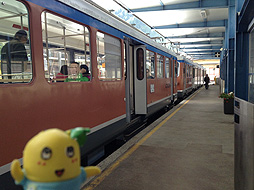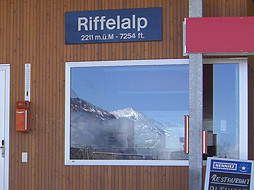 I started to hike from here and planned on going around to 4 famous lakes.
The most well-known lake is Stellisee and among all of the lakes it's the highest up on the mountain.

Riffelalp station has an altitude of 2200m and Stellisee is 2537m above sea level. Although it dosen't seem like there is much difference in height, the hiking path between Riffelalp and Stellisee passes through the bottom of the valley, so the actual difference in height is more noticeable.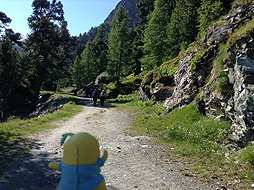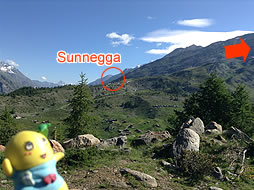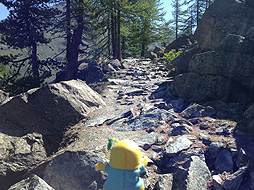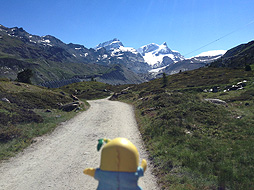 I kept on hiking with my back to the Matterhorn.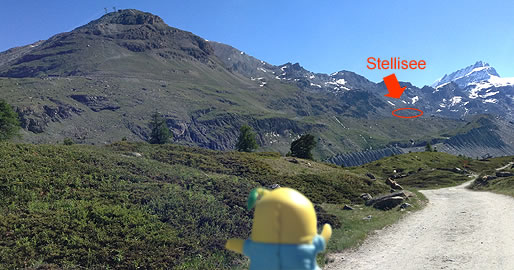 The area around Stellisee came into sight! But, it was still far off in the distance....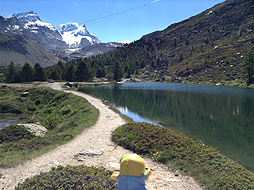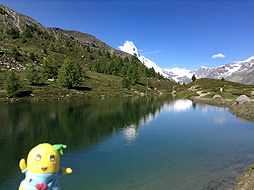 I arrived at Gruensee(2300m) which is one of 5 famous lakes in Zermatt. It is a beautiful lake but unfortunately only a small portion of the Matterhorn is reflected in the lake because a mountain is in the way.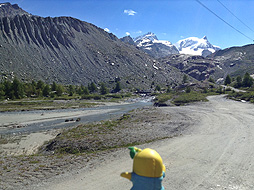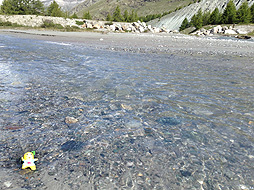 Walking down from the lake, I came to an opening in the bottom of the valley where a river runs through. This open space is what remains of the Fildelen Glacier which used to reach around here.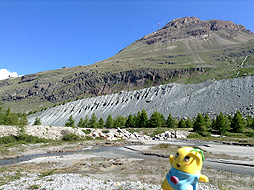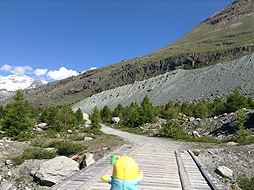 The grey, sandy looking part is called "moraine" and it is formed by a very slow process of glacial activity. I heard that the water of the river is coming out from the edge of the Fildelen Glacier and I would really like to visit it next time!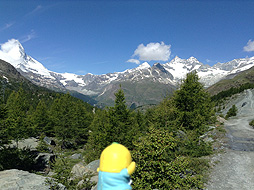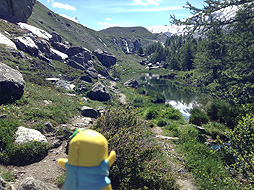 After my break, I walked up the opposite side of the valley. A gentle uphill extends from the bottom and leads to the halfway point, Stellisee. You have to spend a lot of energy to get there and it's much harder than it looks.
I kept walking while sweating from my forehead and arrived at today's 2nd lake, "Grindjisee".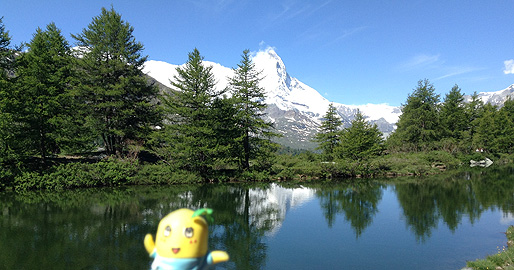 Grindjisee(2334m) is a small lake surrounded by larches and well known for its wonderful reflection of the Matterhorn on the lake.
When I arrived there, lots of Japanese hikers were waiting for the wind and waves on the lake to settle down. As Grindjisee is surrounded by trees, the wind is generally weak and it is a bit easier to take a good picture.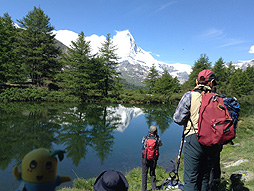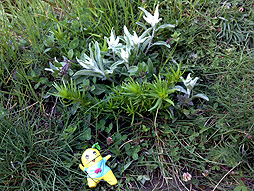 By the way, I saw wild edelweisses by the lake for the first time! A Japanese hiker told me that they always bloom in the same spot every year.