Switzerland/2012
Japan to Zurich

Grindelwald
- Day 01
- Day 02
 Maennlichen
- Day 03
 Jungfraujoch
 Kleine Scheidegg
- Day 04
 Kleine Scheidegg
 Wengen
 Maennlichen
- Day 05
 First
 Bort

Muerren
- Day 01
 Allmendhubel
 Schilthorn
 Gruetschalp
- Day 02
 Bern
- Day 03
 Schilthorn
 Lauterbrunnen

Zermatt
- Day 01
- Day 02
 Rothorn
 Sunnegga
- Day 03
 Zmutt
 Gornergrat
 Rotenboden
- Day 04
 Gornergrat
 Rotenboden
 Riffelberg
 Riffelalp
 Klein Matterhorn
- Day 05
 Riffelalp-Sunnegga
 Findeln
- Day 06
 Trockener Steg
 Klein Matterhorn
 Schwarzsee
 Zmutt

Baden
- Day 01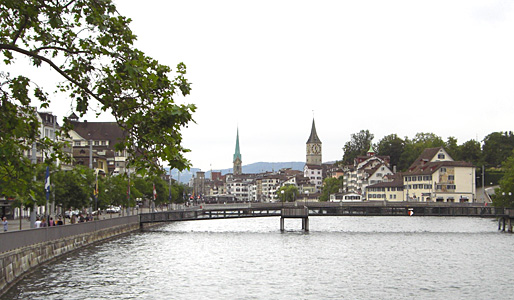 At last, I arrived at my first destination, Zurich in Switzerland!
It was a 16-hour trip to get there from Japan via Germany. As usual, it's not easy coming to Europe from Asia and I was completely exhausted.
What do you think you have to do when you arrive in Switzerland?
For tourists from abroad, it is getting a rail-bus pass like Swiss Pass and Swiss Flexi Pass, which is offered by the Swiss Travel System. This is because transportation cost in Switzerland is amazingly high!! At least, it is much more expensive than its neighboring countries.
These passes give you unlimited access on the Swiss Travel System network and it offers a 50% discount on most mountain railways and cable cars.
I think a rail-bus pass is a MUST when traveling around Switzerland. You can buy a rail-bus pass at most Swiss railway stations.

For your information, the ticket window at the Zurich airport station is always very busy, but here's a tip from me. You can also purchase your passes at a travel agency operated by Swiss Federal Railways(SBB). I recommend that you buy your passes at the travel agency in the Zurich airport station. The travel agency operated by SBB is very close by the ticket window.
It was about a 10-minute walk from the main station to my accommodation.
It looked like it was only a few minutes to get there on the map but I was hampered by the lack of pedestrian crossings and traffic signals. In Zurich, you just have to look and run!
I stayed at a bed and breakfast called "Hotel Marta".
The hotel was a low-cost backpacker hostel up until a few years ago and now it is a regular hotel with newly reconstructed facilities. Therefore, it's VERY clean and new, but don't expect more service than that which a regular middle-class hotel provides!
The cost of accommodation is quite cheap compered to other hotels. It was 125 euro(12,500 yen) per night.