Switzerland/2012
Japan to Zurich

Grindelwald
- Day 01
- Day 02
 Maennlichen
- Day 03
 Jungfraujoch
 Kleine Scheidegg
- Day 04
 Kleine Scheidegg
 Wengen
 Maennlichen
- Day 05
 First
 Bort

Muerren
- Day 01
 Allmendhubel
 Schilthorn
 Gruetschalp
- Day 02
 Bern
- Day 03
 Schilthorn
 Lauterbrunnen

Zermatt
- Day 01
- Day 02
 Rothorn
 Sunnegga
- Day 03
 Zmutt
 Gornergrat
 Rotenboden
- Day 04
 Gornergrat
 Rotenboden
 Riffelberg
 Riffelalp
 Klein Matterhorn
- Day 05
 Riffelalp-Sunnegga
 Findeln
- Day 06
 Trockener Steg
 Klein Matterhorn
 Schwarzsee
 Zmutt

Baden
- Day 01

On my 2nd day, I went up to Rothorn Paradise(3103m).
You can get to the summit of Rothorn Paradise by a combination of just a 3-minute funicular ride ,a 15-minute aerial ropeway ride and a 10-minute aerial ropeway ride, via Sunnegga and Blauherd.

The sky was covered with deep gray clouds and sadly the Matterhorn had also been overcast since morning!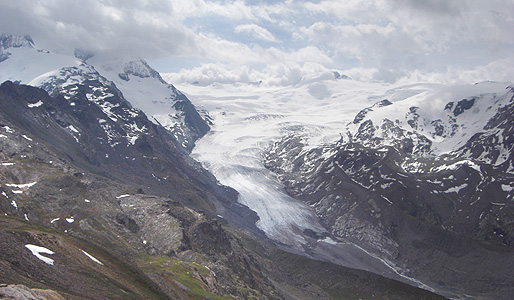 The Rothorn Paradaise is one of the main ski areas located around Zermatt. Rothorn Paradaise is located at 3100m above see level and it's known as a good place to get a shot of the Matterhorn's most beautiful side.

From the summit, you can see the mountains that hold glaciers and a wonderful view of summits higher than 4000m surrounding Zermatt...if weather permits!
Sunnegga Paradise(2288m) is on the way to the base station in Zermatt.
It seems that Sunnegga Paradise offers tha BEST and closest view of the Matterhorn, but you can't see many other peaks since Sunnegga Paradise is quite low.
The whole area around Sunnegga Paradise is actually perfect for hiking. So I walked down from there back to Zermatt. On the way, there are a few nice restaurants with good atmosphere, where you can enjoy a long lunch while seeing the beautiful mountains...of course when weather permites.
Looking more deeply and quietly, you will meet marmots on the slope while hiking, like I did!
Marmots are one of the typical mountain animals and they are seen in rocky high elevation areas like Zermatt. If you don't have any chance to see one while hiking, at least you might hear a shrill whistle to warn other marmots of your approach.
I hiked down from Sunnegga Paradise back to Zermatt through the meadows and the forest. It is a 90-minute hike but it mostly downhill all the way, so it wasn't as long as it sounds. But I hurried down because it looked like rain and I got tired out!