Switzerland/2012
Japan to Zurich

Grindelwald
- Day 01
- Day 02
 Maennlichen
- Day 03
 Jungfraujoch
 Kleine Scheidegg
- Day 04
 Kleine Scheidegg
 Wengen
 Maennlichen
- Day 05
 First
 Bort

Muerren
- Day 01
 Allmendhubel
 Schilthorn
 Gruetschalp
- Day 02
 Bern
- Day 03
 Schilthorn
 Lauterbrunnen

Zermatt
- Day 01
- Day 02
 Rothorn
 Sunnegga
- Day 03
 Zmutt
 Gornergrat
 Rotenboden
- Day 04
 Gornergrat
 Rotenboden
 Riffelberg
 Riffelalp
 Klein Matterhorn
- Day 05
 Riffelalp-Sunnegga
 Findeln
- Day 06
 Trockener Steg
 Klein Matterhorn
 Schwarzsee
 Zmutt

Baden
- Day 01

The following day, it had been raining lightly since morning and the mountains were covered with heavy clouds. There was nothing to do in the town of Grindelwald, so I purchased a Jungfraubahnen 6-day Pass and ventured to one of the pupular summits in Grindelwald area, Maennlichen.

Jungfraubahnen 6-day Pass is a great deal if you stay in the Jungfrau area for a week and the weather is good.
The Jungfraubahnen 6-day Pass is a ride pass which allows unlimited travel in the Jungfrau region for 6 days and it also gives you a discounted trip up to the "Top of Europe(Jungfraujoch)".
Jungfraujoch is the highest railway station in Europe(3454m) and it is one of the most popular sightseeing destinations in Switzerland, attracting great crowd of tourists.
The journey to the top of Maennlichen is very easy.
First, you take a Berner Oberland Bahn(BOB) at the Grindelwald railway station and get off at the Grund railway station. All trains from Grindelwald to Kleine Scheidegg, which is the station at the foot of Jungfrau, will go through Grund station. Grund station is almost 100m lower than Grindelwald station and it is only a 5-minute train ride.

At Grund station, you switch to "Grund Maennlichen Gonlola Gableway" taking you up to the top of Maennlichen, 2230m above sea-level.
I heard that the gondola cable is about 6km long and it is still the world's longest cable car. The gondola cable ride to Maennlichen is long, about 30 minutes or more!!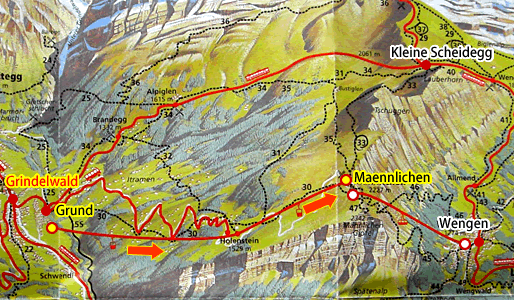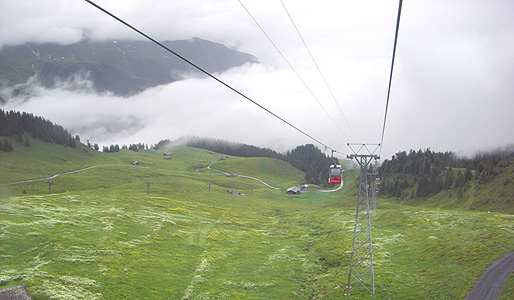 After a 30-minute aerial gondola ride, you will reach the top of Maennlichen.
As I had imagined, everything was completely covered with clouds.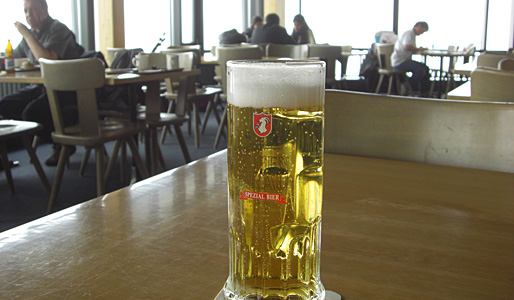 I couldn't see anything from the top, so I enjoyed a good beer at a restaurant.... That was everything I did at the top of Maennlichen!