Switzerland/2012
Japan to Zurich

Grindelwald
- Day 01
- Day 02
 Maennlichen
- Day 03
 Jungfraujoch
 Kleine Scheidegg
- Day 04
 Kleine Scheidegg
 Wengen
 Maennlichen
- Day 05
 First
 Bort

Muerren
- Day 01
 Allmendhubel
 Schilthorn
 Gruetschalp
- Day 02
 Bern
- Day 03
 Schilthorn
 Lauterbrunnen

Zermatt
- Day 01
- Day 02
 Rothorn
 Sunnegga
- Day 03
 Zmutt
 Gornergrat
 Rotenboden
- Day 04
 Gornergrat
 Rotenboden
 Riffelberg
 Riffelalp
 Klein Matterhorn
- Day 05
 Riffelalp-Sunnegga
 Findeln
- Day 06
 Trockener Steg
 Klein Matterhorn
 Schwarzsee
 Zmutt

Baden
- Day 01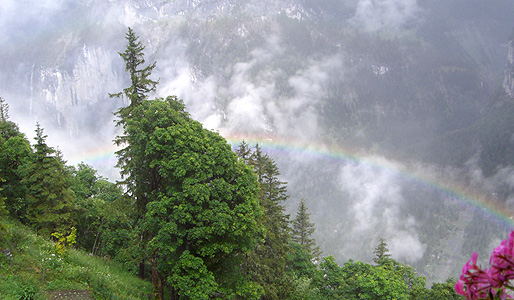 The following morning, as expected the weather was bad....
The mountains surrounding the village of Muerren were totally covered with clouds, or more like Muerren was in the clouds which hung low.
In spite of bad weather, I headed to the summit of the Schilthorn.
Today's purpose wasn't the view from the summit.
Guess what it was?

The reason for the visit was the famous restaurant "Piz Gloria" on the summit!
It is the world's first revolving mountain-top restaurant and it is alos the location of the 007 movie "On Her Majestys Secret Service".

Next to the restaurant was a viewing terrace. I first stopped there to see the view.
From time to time the mountain peaks were visible through the broken clouds so I went out of the station building followed the other people.

BUT it was extremely cold there.... The clouds would roll in with the wind and as soon as I was immersed in the clouds, my eyelashed and nose hair froze!
Then the clouds would roll out again and the sun would shine. It happened over and over. That was a completely terrifying experience. This must be what it's like to get lost in the winter mountains....
I rushed into the comfortable and warm restaurant.

I ordered this touristy price "007 special pasta"!!
I'll leave the taste of it to your imagination....
If you forget to watch the movie "On Her Majestys Secret Service" before visit there, it is OK because you can see a short advertising movie of the Schilthorn in the station building. Don't miss it!