Switzerland/2012
Japan to Zurich

Grindelwald
- Day 01
- Day 02
 Maennlichen
- Day 03
 Jungfraujoch
 Kleine Scheidegg
- Day 04
 Kleine Scheidegg
 Wengen
 Maennlichen
- Day 05
 First
 Bort

Muerren
- Day 01
 Allmendhubel
 Schilthorn
 Gruetschalp
- Day 02
 Bern
- Day 03
 Schilthorn
 Lauterbrunnen

Zermatt
- Day 01
- Day 02
 Rothorn
 Sunnegga
- Day 03
 Zmutt
 Gornergrat
 Rotenboden
- Day 04
 Gornergrat
 Rotenboden
 Riffelberg
 Riffelalp
 Klein Matterhorn
- Day 05
 Riffelalp-Sunnegga
 Findeln
- Day 06
 Trockener Steg
 Klein Matterhorn
 Schwarzsee
 Zmutt

Baden
- Day 01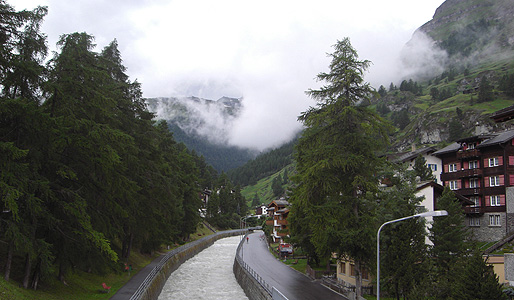 The following day, once again the weather was bad and the mountains were covered with clouds. I gave up going to the high mountain peaks and I headed for Zmutt.
Zmutt at 1936m above sea level is a small hamlet of Zermatt. The hiking trail between Zermatt and the bottom of the Matterhorn via Zmutt is popular.

Usually I take a cable car up and hike down but there were many people who hiked up from Zermatt and so I started to walk up a long hill by mistake!!
The hike begins at the cable car station and leads to the Matterhorn. The start of the trail is just near the station building.
Walking from Zermatt to Zmutt takes about an hour and it is introduced as an easy hiking trail, but be aware that it's a constant climb of 300m height!! The endless uphill was pretty tough for me due to being unfit.
I should have taken a ride in a cable car.
There are two restaurants in Zmutt and it is a good place for a coffee break on the way to the bottom of the Matterhorn.
If you still have energy, continue on and follow the path leading to the Matterhorn. Of course I headed back to Zermatt. I was awfully tired.
Surprisingly, there is a pub which serves a Japanese style curry in the center of Zermatt.
I wondered if Japanese style curry would sell well in Zermatt. However as soon as I entered the pub, I was asked "curry?" by a staff member and I saw about 15 Japanese tourists who were eating the curry! How many Japanese tourists came there.
The taste was close to the real thing and it was not so bad...if I were to make specific mention of the taste, I would say it was like curry cooked with friends on a school trip!
However, curry is one of Japan's most popular dishes and I was really glad to eat it in Switzerland.