Switzerland/2012
Japan to Zurich

Grindelwald
- Day 01
- Day 02
 Maennlichen
- Day 03
 Jungfraujoch
 Kleine Scheidegg
- Day 04
 Kleine Scheidegg
 Wengen
 Maennlichen
- Day 05
 First
 Bort

Muerren
- Day 01
 Allmendhubel
 Schilthorn
 Gruetschalp
- Day 02
 Bern
- Day 03
 Schilthorn
 Lauterbrunnen

Zermatt
- Day 01
- Day 02
 Rothorn
 Sunnegga
- Day 03
 Zmutt
 Gornergrat
 Rotenboden
- Day 04
 Gornergrat
 Rotenboden
 Riffelberg
 Riffelalp
 Klein Matterhorn
- Day 05
 Riffelalp-Sunnegga
 Findeln
- Day 06
 Trockener Steg
 Klein Matterhorn
 Schwarzsee
 Zmutt

Baden
- Day 01

On the 11th day of my visit to Switzerland, I headed to my next destination, Zermatt. It was the high point of my visit to Switzerland!

Zermatt is a car-free resort. Cars are not allowed in Zermatt and you have to park in one station away from Zermatt. It is 5km away.
Except in the case of hiking, the only way to get to Zermatt is by train.
At Zermatt station, you will be received an electric-powered taxi or hotel-owned horse carts.
The main street of Zermatt is the Bahnhofstrasse(Station street) which runs from the train station in the north to the Kirchplatz(Church Square) in the south.

My accommodation, Hotel Alpina, was a 15-minute walk away from the station. The hotel is centrally located so if you want to go for dinner or drinks at night it is just a 1-minute stroll, however it doesn't face the main street and it is in a quiet location.
The owners were very friendly and the room was very clean and tidy. I really loved this hotel.
Beer break at a small cafe.
With luck, you might see a flock of mountain goat returning from mountains.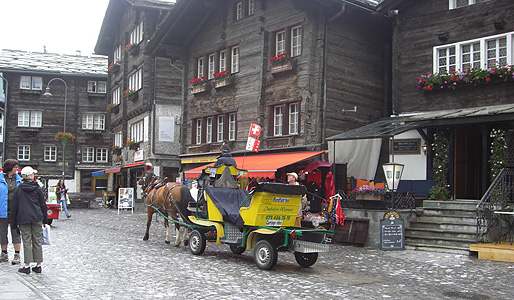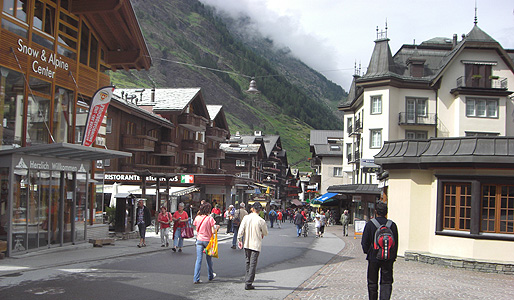 The streets are lined with numerous restaurants and all sorts of shops and hotels. Of course in a typically Swiss fashion, there are many watch shops even though it is a small village in the mountains.

The small village of Zermatt always seems to be bustling with tourists all day long. No surprises, there were lots of Japanese tourists you can't go 1 minute without meeting a Japanese!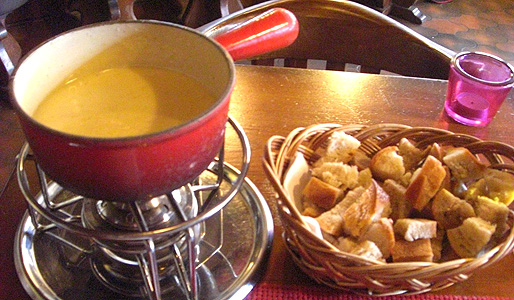 The best known Swiss speciality for Japanese people is probably cheese fondue. It is a kind of Swiss home cooking consisting of a blend of heated cheese, white wine and seasoning.

All I did was eat and eat...but I was overwhelmed by cheeses and a mountain of bread and I felt like giving up halfway!
Eating cheese fondue alone was a little bit tough work.

Incidentally, a Swiss man who I'd met on the train said, "I eat cheese fondue only once a year. Why do you Japanese so LOVE cheese fondue?"
I'm not sure why!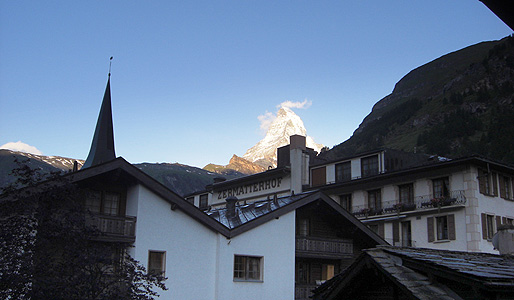 "Matterhorn!!"
At the approach of evening, the clouds which had covered the mountains were gone and finally I could see the Matterhorn. I was lucky to stay in a room on the top floor because it was possible to see the Matterhorn from the window.