Switzerland/2012
Japan to Zurich

Grindelwald
- Day 01
- Day 02
 Maennlichen
- Day 03
 Jungfraujoch
 Kleine Scheidegg
- Day 04
 Kleine Scheidegg
 Wengen
 Maennlichen
- Day 05
 First
 Bort

Muerren
- Day 01
 Allmendhubel
 Schilthorn
 Gruetschalp
- Day 02
 Bern
- Day 03
 Schilthorn
 Lauterbrunnen

Zermatt
- Day 01
- Day 02
 Rothorn
 Sunnegga
- Day 03
 Zmutt
 Gornergrat
 Rotenboden
- Day 04
 Gornergrat
 Rotenboden
 Riffelberg
 Riffelalp
 Klein Matterhorn
- Day 05
 Riffelalp-Sunnegga
 Findeln
- Day 06
 Trockener Steg
 Klein Matterhorn
 Schwarzsee
 Zmutt

Baden
- Day 01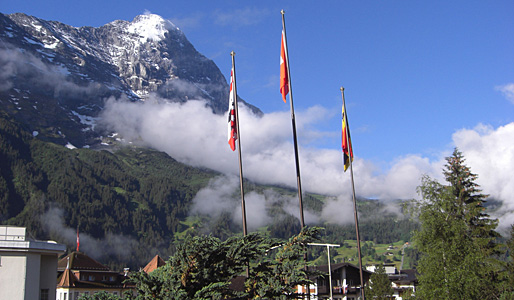 The following day, it was the long-awaited blue sky!!
The view from my hotel of the Eiger north face was also wonderful!
Immediately, I went straight to the railway station to get to "Top of Europe(Jungfraujoch)". Jungfraujoch, Europe's highest railway station with an elevation of 3454m, is the highlight for people traveling Switzerland.
Though it was in the early morning, the railway station was much more crowded with tourists than I expected. Moreover, I was surprised at the large number of middle-aged Japanese tourists!

The journey to the Jungfraujoch.
First of all, take a train to Kleine Scheidegg and change trains at Kleine Scheidgg station. Kleine Scheidegg railway station at 2061m offers train services up to the Jungfraujoch.

For your information, even if you have a Jungfraubahnen Pass, you do have to pay extra money for the train between Eigergletscher and Jungfraujoch.

From Eigergletscher railway station, the train goes through a 7km long tunnel in Eiger and Monch, and there are two intermediate stations. The intermediate stations will offer you panoramic views of the famous glacier!
After a 50-minute train trip, you will finally reach the highest train station in Europe, "Top of Europe(Jungfraujoch)"!
The view of the snowcapped mountains that hold glaciers was really spectacular. Access to "Top of Europe" isn't exactly cheap but it's worth a visit.
The summit of Jungfrau(4158m) . It's one of the main summits in Bernese Alps.
Looking south is the famous Aletsch glacier!
You can join a walking guided tour around the glacier, if you are interested. It must be a great adventure!
According to travel guidebooks, the air at the Jungfraujoch is much thinner than usual and so drinking alcohol is not recommended to prevent altitude sickness.
I tried to follow the reccomendation, however I couldn't do it. Luckily I didn't get altitude sickness after drinking.
Drinking beer with a wonderful view on the summit called "Top of Europe" was of course very impressive! Why don't you try it?