Switzerland/2012
Japan to Zurich

Grindelwald
- Day 01
- Day 02
 Maennlichen
- Day 03
 Jungfraujoch
 Kleine Scheidegg
- Day 04
 Kleine Scheidegg
 Wengen
 Maennlichen
- Day 05
 First
 Bort

Muerren
- Day 01
 Allmendhubel
 Schilthorn
 Gruetschalp
- Day 02
 Bern
- Day 03
 Schilthorn
 Lauterbrunnen

Zermatt
- Day 01
- Day 02
 Rothorn
 Sunnegga
- Day 03
 Zmutt
 Gornergrat
 Rotenboden
- Day 04
 Gornergrat
 Rotenboden
 Riffelberg
 Riffelalp
 Klein Matterhorn
- Day 05
 Riffelalp-Sunnegga
 Findeln
- Day 06
 Trockener Steg
 Klein Matterhorn
 Schwarzsee
 Zmutt

Baden
- Day 01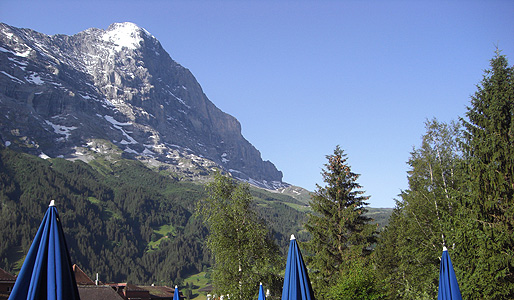 Day 4th in Grindelwald, it was also sunny.
The Eiger north face stood out clearly against the blue sky and it was so beautiful. If you have good eyes and you are lucky, you may be able to see people climbing the steep, rugged face
In the early morning, I immediately went back to Kleine Scheidegg, a great place for hiking!
First, I took one of the hiking trails to Wengen from Kleine Scheidegg.
It's mostly downhill from Kleine Scheidegg and it's an easy stroll. The scenery along the way was beautiful.
The view of the famous mountains, Jungfrau, Eiger and Moench against a background of blue sky, was really wonderful. But unfortunately, on the way from Kleine Scheidegg to Wengen you have to walk with your back against such great views....
Beer break near Wengernalp railway station.
... And I gave up walking to Wengen!
I moved from Wengernalp to Wengen by train.
The trains are really convenient for hiking around Grindelwald area because you can hop on and off at any point along the hiking trails.
I'd say that's the best point of hiking around Grindelwald area, especially for a complete beginner hiker like me.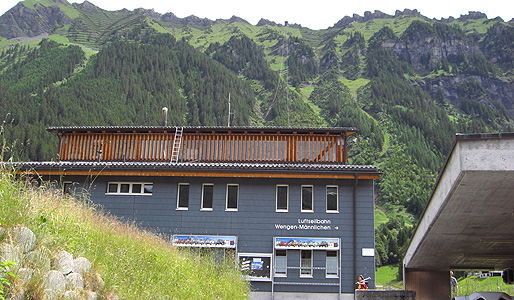 Just like before, I headed to the top of Maennlichen from Wengen. My journey was very flexible because of my Jungfraubahnen Pass.