Switzerland/2013
Japan to Zurich

Zermatt
- Day 01
- Day 02
- Day 03
 Gornergrat
 Riffelalp-Blauherd
 Findeln
- Day 04
 Blauherd-Stellisee
 Marmot trail
 Flower trail
 Findeln
- Day 05
 Blauherd-Riffelalp
 Riffelalp-Riffelberg
 Rotenboden-Riffelalp
- Day 06
 Schwarzsee
 Furi-Zmutt
 Zum See

St.Moritz
- Day 01
- Day 02
 Diavolezza
 Morteratsch
- Day 03
 Muottas Muragl
 Alp Languard
 Corviglia
- Day 04
 Bernina Hospiz
 Sassal Masson
 Alp Grum
 Pontresina
 Lake of Staz
- Day 05
 Corvatsch
 Furcola Surlej
 Roseg Valley
- Day 06
 Corviglia


Zurich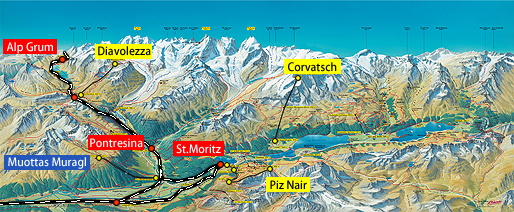 St.Moritz is a famous winter resort town in the Engadin valley in Switzerland and it's also popular in the summer months for lots of visitors from within the country and abroad.
There are several viewing platforms that offer a great view and they are all easy to reach from St.Moritz.

For your information, some 100 Engadin hotels offer a free pass called "Bergbahnen inklusive(Mountain railways inclusive)" to their guests who stay for at least two nights. You can get on 13 cable cars, funiculars and chairlifts free of charge.
Moreover, a number of associated hotels provide another free pass which also includes free passage on the railway between St.Moritz and Alp-Gruem and local buses.
Needless to say, I got the all-inclusive pass and during my stay in St.Moritz, I had unlimited rides!
On the 2nd day of my stay in St.Moritz, I headed to one of the puoular viewing platforms, Diavolezza(2978m).
Of course, as mentioned before, there was no charge for the travel between St.Moritz railway station and the closest railway station to Diavolezza, and the aerial cableway to Diavolezza.
The bottom station of the Diavolezza aerial cableway is located directly over Bernina Diavolezza train station so it's very easy to access by train from St.Moritz.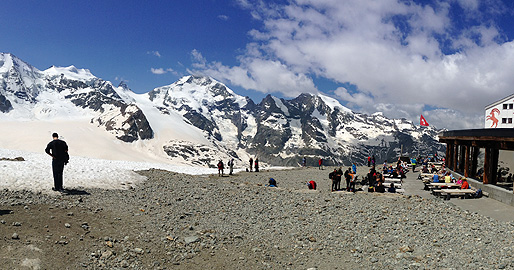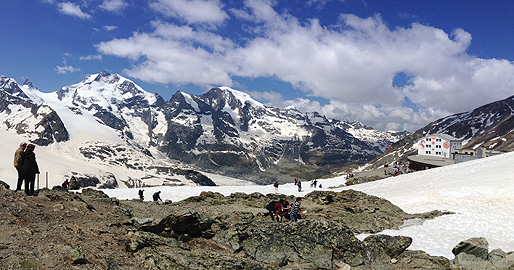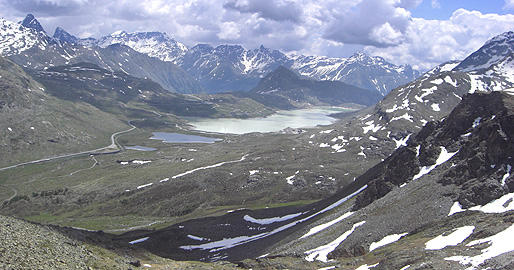 The aerial cableway gets you up to Diavolezza in 10 minutes. Diavolezza with a hight of 2978m above sealevel is one of the places which is easily accessible by cable car and you can touch the snow even in summer.

The mountain top provided a 360-degree wonderful view and it was amazing. The glaciers and snowcapped famous mountains having altitudes of over 4000m were right there, and on the opposite side of them, the Bernina range alps spread out.
I heard that many people hike between the top and the bottom station of the aerial cableway during the summer.
But, even though it was July, there was still some patchy snow on the mountainside and it was more than I expected, so I went down by aerial cableway. It's always better to be on the safe side, especially during an overseas trip.
Instead of the hike from the mountain top, I started to hike toward Morteratsch.
The hiking path between Diavolezza train station and Morteratsch train station stretched along the railway track. It is mostly flat and it is suitable for people in the beginner range.