Switzerland/2013
Japan to Zurich

Zermatt
- Day 01
- Day 02
- Day 03
 Gornergrat
 Riffelalp-Blauherd
 Findeln
- Day 04
 Blauherd-Stellisee
 Marmot trail
 Flower trail
 Findeln
- Day 05
 Blauherd-Riffelalp
 Riffelalp-Riffelberg
 Rotenboden-Riffelalp
- Day 06
 Schwarzsee
 Furi-Zmutt
 Zum See

St.Moritz
- Day 01
- Day 02
 Diavolezza
 Morteratsch
- Day 03
 Muottas Muragl
 Alp Languard
 Corviglia
- Day 04
 Bernina Hospiz
 Sassal Masson
 Alp Grum
 Pontresina
 Lake of Staz
- Day 05
 Corvatsch
 Furcola Surlej
 Roseg Valley
- Day 06
 Corviglia


Zurich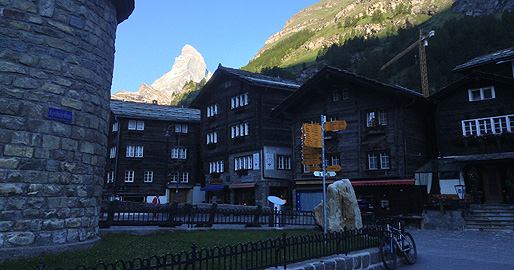 An early morning, the view of the Matterhorn from the town was as beautiful as yesterday. Of course I had a reason to get up!
Since the weather was nice, everybody got up with the sun and was off to an early start. The town was already lively with hikers!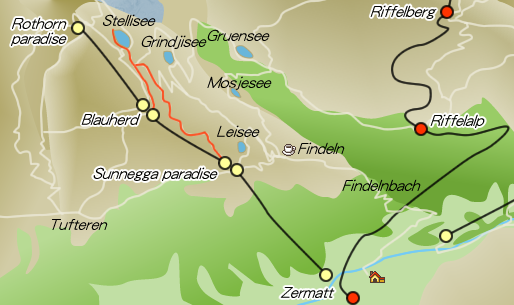 First, I headed to Blauherd where I'd had a hell of a time going up yesterday. Today I used the funicular connecting the town and Sunnegga Paradise and the aerial ropeway connecting Sunnegga Paradise and Blauherd.
It was easy an 18-minute ride. It was hard to believe that I'd had so much trouble in walking up yesterday!!
I headed to Stellisee from Blauherd station. It said on the hiking trail signs that there were two different ways to Stellisee.
The one sign said "It takes about 15-minutes" and the other said "It takes about 1hour and 15 minutes".
The longer trail winds up the side of the hill and then goes down to the lake, so you can enjoy a wonderful view from there while walking on the trail.
Of course I chose the short one! I'd had an exhausting experience yesterday and I never wanted to do that again....
For your information, the promotional statement "15 min" wasn't correct. It must be specific to people who have long legs!

My destination, Stellisee, is well-known for its lovely reflection of the Matterhorn in the lake and one of the most photogenic places to capture the Matterhorn.
I got up early since I wanted to see it!
If you want to see the lovely reflection, you have to go there early in the morning. I hear that there is very little wind at an early hour. In fact, I stayed there for about 30 minutes and in the meantime it got windy and the surface of the water started rippling....