Switzerland/2013
Japan to Zurich

Zermatt
- Day 01
- Day 02
- Day 03
 Gornergrat
 Riffelalp-Blauherd
 Findeln
- Day 04
 Blauherd-Stellisee
 Marmot trail
 Flower trail
 Findeln
- Day 05
 Blauherd-Riffelalp
 Riffelalp-Riffelberg
 Rotenboden-Riffelalp
- Day 06
 Schwarzsee
 Furi-Zmutt
 Zum See

St.Moritz
- Day 01
- Day 02
 Diavolezza
 Morteratsch
- Day 03
 Muottas Muragl
 Alp Languard
 Corviglia
- Day 04
 Bernina Hospiz
 Sassal Masson
 Alp Grum
 Pontresina
 Lake of Staz
- Day 05
 Corvatsch
 Furcola Surlej
 Roseg Valley
- Day 06
 Corviglia


Zurich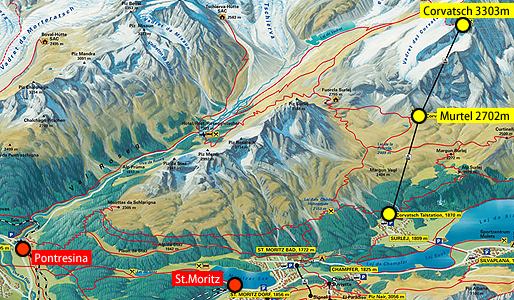 Day 4 in St.Moritz.
I headed to Corvatsch which was a mountain in the Engadin region and there was the highest viewing platform in this region.
It took about 20 minutes from St.Moritz to Corvatsch station in Surley by local bus and it was a 15-minute ride on a cable car from there to the top of Corvatsch via Murtel station.
The platform was located 3,303m above sea level and it was supposed to provide a great view of the Engadin valley with mountain peaks, and additionally you were supposed to be able to see Matterhorn in the distance.
There was more cloud today than yesterday so I waited for the sky to clear for a while, but the weather was getting worse and the view from the top was not that great....
Murtel station is located below Corvatsch Mountaintop station and it is a popular starting point for hiking to all destinations. Among those many trails, the trail via Furcola Surlej is best known. From Furcola Surlej, you can see a stunning view that will take your breath away!

BUT, there was a lot of snow left over around Murtel station. Of course, the trail toward Furcola Surlej was also covered with snow....
My personal motto is "A wise man does not get near to danger". However I guess that I was high on overseas travel and I started following after the other hikers toward Furcola Surlej. Now if I think about it, I must have had a screw loose!
What a stupid thing I had done!
My shoes and the hems of my pants were all covered with muddy snow. I had a terrible time in only 1 hour of hiking. It was a really painful experience!
A small pond located at the mountain peak is why Furcola Surlej is called the best scenic spot. Famous mountains are reflected in the pond and the beautiful glacier lies in the distance. Of course, if the weather is good, you can enjoy it as shown in the image on the right.

Unfortunately, all I could see there was the frozen pond covered with snow....
Furcola Surlej is a great place to kick back with a drink.
There is a small restaurant and you can have a little sip with coffee to warm you up after walking outside. Needless to say, I drank cold beer to rest as usual, even though the world around me was covered with snow.