Switzerland/2013
Japan to Zurich

Zermatt
- Day 01
- Day 02
- Day 03
 Gornergrat
 Riffelalp-Blauherd
 Findeln
- Day 04
 Blauherd-Stellisee
 Marmot trail
 Flower trail
 Findeln
- Day 05
 Blauherd-Riffelalp
 Riffelalp-Riffelberg
 Rotenboden-Riffelalp
- Day 06
 Schwarzsee
 Furi-Zmutt
 Zum See

St.Moritz
- Day 01
- Day 02
 Diavolezza
 Morteratsch
- Day 03
 Muottas Muragl
 Alp Languard
 Corviglia
- Day 04
 Bernina Hospiz
 Sassal Masson
 Alp Grum
 Pontresina
 Lake of Staz
- Day 05
 Corvatsch
 Furcola Surlej
 Roseg Valley
- Day 06
 Corviglia


Zurich

Early the next morning, the Matterhorn came out from behind the clouds!
However, it seemed a bit different than last year. I'd visited here the nearly same time last year but it looked like the Matterhorn had had a heavier snowfall than last year.
First of all, I bought a "Zermatt Peak Pass" which offers unlimited rides in this area and I headed to the top of the Gornergrat.

When I reached the top, I was surprised by the landscape.
Snow! Snow! Snow!
It was the perfect winter scenery! The snow covering was actually deeper than it looked and the footing was slippery. I had a bit of a hard time going up to the summit, but the scenery from there was amazing!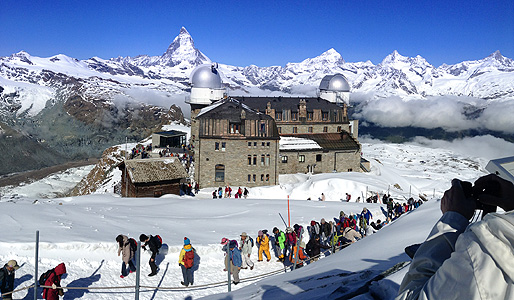 The first train from Zermatt had been crowded wtih Japanese tourists. Also, just as I expected, the viewing platform at the summit was full of Japanese.
For your information, there are photos taken on my last visit. I visited there the same time last year but as you can see, there wasn't snow at all. It depends on the weather of that year if there is snow or not. Just to be safe, and for a comfortable hike, high-cut and waterproofed shoes are better when you visit there for hiking.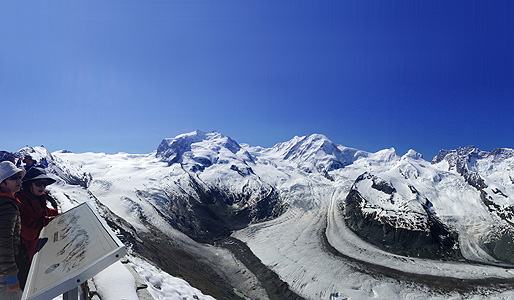 From the high mountain's peaks to the low mountains and the famous glaciers, everything was covered with snow. I saw nothing but snow in every direction. The snow covering was soft and it seemed that yesterday's rain was snow here at an altitude of 3000m.
After enjoying the view from the summit, it was time to take a picture with the dog, whose sole purpose was to draw tourists to the area.
Most of the patrons were tourists in groups and some people might say that it is sort of tourist trap. BUT I really like it.