Switzerland/2013
Japan to Zurich

Zermatt
- Day 01
- Day 02
- Day 03
 Gornergrat
 Riffelalp-Blauherd
 Findeln
- Day 04
 Blauherd-Stellisee
 Marmot trail
 Flower trail
 Findeln
- Day 05
 Blauherd-Riffelalp
 Riffelalp-Riffelberg
 Rotenboden-Riffelalp
- Day 06
 Schwarzsee
 Furi-Zmutt
 Zum See

St.Moritz
- Day 01
- Day 02
 Diavolezza
 Morteratsch
- Day 03
 Muottas Muragl
 Alp Languard
 Corviglia
- Day 04
 Bernina Hospiz
 Sassal Masson
 Alp Grum
 Pontresina
 Lake of Staz
- Day 05
 Corvatsch
 Furcola Surlej
 Roseg Valley
- Day 06
 Corviglia


Zurich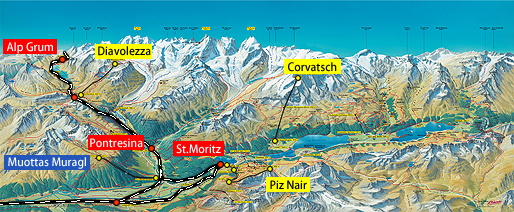 Day 3 in St.Moritz, the weather was fine.
I headed to Muottas Muragl, which was one of the popular sightseeing spots to see typical alpine scenery.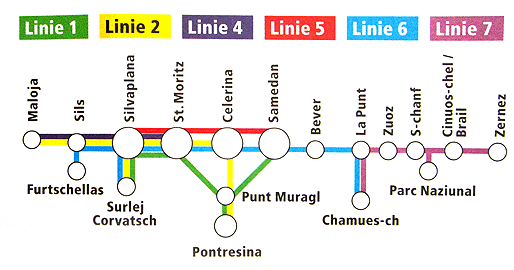 First, I headed to Punt Muragl(1738m) by bus. As mentioned previously, the bus fare was for free!
I transfered to the funicular at Punt Muragl and I reached Muottas Muragl(2456m). The funicular began operating in 1907 and it has over 100 years of history. It still carries many tourists to Muottas Muragl in just 10 minutes.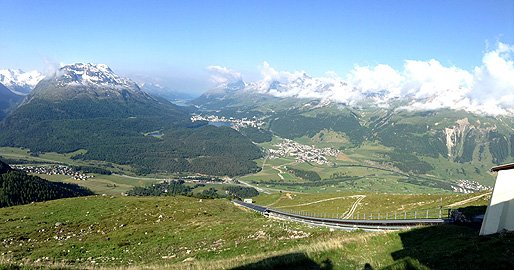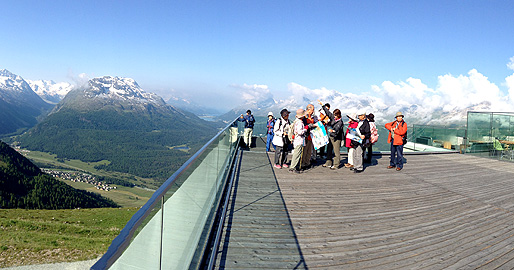 There was a nice hotel next to the station at Muottas Muragl and the terrace of the hotel was a popular place to see a spectacular mountain view.

When I visited there, there were lots of elderly Japanese tourists. Probably, Muottas Muragl was easily accessible by bus and funicular, so it looked like it was especially popular among elderly people.

Just for your information, I heard that having dinner during the sunset was very popular but the dinner at the restaurant is very expensice!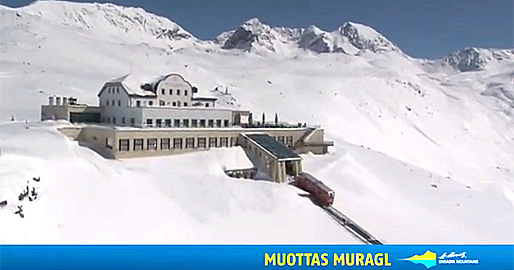 By the way, this is Muottas Muragl in wintertime. It looks like an inaccessible island from a mystery novel by Agatha Christie. I have a feeling that something mysterious is going to happen....