Switzerland/2013
Japan to Zurich

Zermatt
- Day 01
- Day 02
- Day 03
 Gornergrat
 Riffelalp-Blauherd
 Findeln
- Day 04
 Blauherd-Stellisee
 Marmot trail
 Flower trail
 Findeln
- Day 05
 Blauherd-Riffelalp
 Riffelalp-Riffelberg
 Rotenboden-Riffelalp
- Day 06
 Schwarzsee
 Furi-Zmutt
 Zum See

St.Moritz
- Day 01
- Day 02
 Diavolezza
 Morteratsch
- Day 03
 Muottas Muragl
 Alp Languard
 Corviglia
- Day 04
 Bernina Hospiz
 Sassal Masson
 Alp Grum
 Pontresina
 Lake of Staz
- Day 05
 Corvatsch
 Furcola Surlej
 Roseg Valley
- Day 06
 Corviglia


Zurich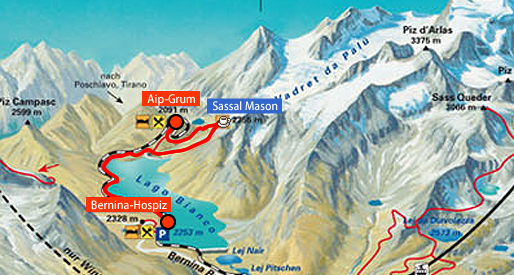 Day 3 in St.Moritz. I headed to Bernina Hospiz(Ospizio Bernina) by train.
Bernina Hospiz is a station on the Bernina Railway line between St.Moritz in Switzerland and Tirano in Italy, and it is the highest station on the Bernina Railway.
From Bernina Hospiz station I followed the well signposted hiking trail and I headed south.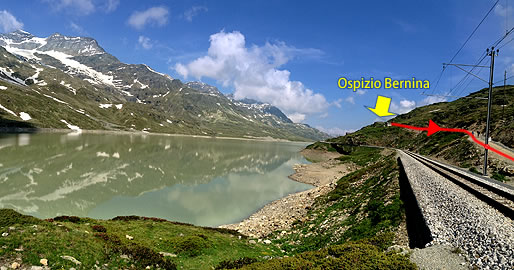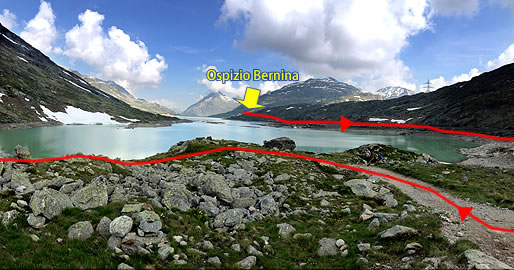 I walked the trail along the lakeshore of Lago Bianco and my destination was the next train station, Alp Grum.
After the lake and following the signs to Alp Grum, you will come to a fork at the bottom of the mountain. The path extending to the left is an easier way along the railway track to Alp Grum. It is a 4.5km hike which takes one hour and 20 min.
The path to the right leading up to the mountain is the route heading to Alp Grum via a mountain lodge(2355m) at the hillside of Sassal Mason(but not to the peak which is at Sassal Masson(3031m) and it is a two-hour and a half hike and about 8km.
The mountain lodge was located on the edge of the cliff overlooking the glacial lakes and the Bernina Pass. And from there the view of the famous Palue glacier opened out before my eyes!
After a short beer break, I headed to Alp Grum station.
I didn't have enough time before the next train and so I practically raced down the mountain!
This is why there is no picture about Alp Grum on my website. I'd heard that Alp Grum station was the well-known location for shooting the Red Train winding along the hairpin bend in the railtrack. It really was too bad that I couldn't stop there.